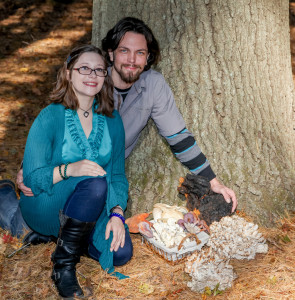 Together, Ryan Bouchard and Emily Schmidt created the Mushroom Hunting Foundation, to educate people about safely hunting for wild mushrooms.  It is a nonprofit organization that aims to make mushroom hunting better understood and well-known as part of our culture.
Ryan T. Bouchard is the author of Gourmet Mushrooms of Rhode Island, the first book about mushroom hunting in the Ocean State.  Graphically designed by Ryan, this work was actually an innovative combination of book and calendar, showing the annual progression of mushroom seasons, and introducing Rhode Islanders to some astonishing resident life forms.  The new 2019 edition has been redesigned for a wider audience, and is now titled Gourmet Mushrooms of the Northeast.   It includes many brand new sections, created with more of Ryan's colorful photography.
Emily Schmidt studies the health and nutritional values of our local mushrooms, the many incredible ways they can be cooked, their craft uses in different cultures, and even the new technological uses of fungi, which include decontaminating polluted soil.  Emily's passion for ecological awareness and creative cooking has reached over a thousand students in only a short period of time.
The Mushroom Hunting Foundation has different types of events and educational programs, both indoor and outdoor, for audiences large or small.  The programs are so fun that many people don't notice at first how much they are learning!
Click CLASSES, GUIDED WALKS, FESTIVALS in the menu tabs above, for more information.
CONTACT US                    
Email: ,    Phone: (401)595-6143.
Thank you for your interest!
SOCIAL MEDIA